Math Help
Mathematics tutoring (FREE!) will occur in the J.D. Williams Library Commons. The Commons is on the bottom floor of the J.D. Williams Library. No appointment is necessary. A desk worker is stationed near the reference desk and can point you in the direction of a tutor. Tutoring hours are listed below, along with a map of the 1st floor of the Library.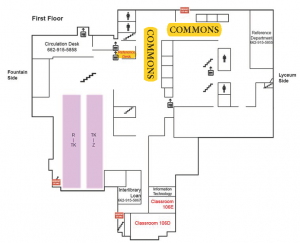 Monday: 10am-7pm
Tuesday: 10am-7pm
Wednesday: 10am-7pm
Thursday: 10am-7pm
Friday: 10am-2pm
Tutoring for DS 099 (Intermediate Algebra) and Math 121 (College Algebra) is also available at the Jackson Avenue Center Math Lab. Hours are below.
Monday through Friday: 9am-5pm
If you feel that you need a private tutor you can download a private tutor list at here: Private Math Tutors List.
Links
The various links below are external resources that may help with math struggles.
HawkesTV – This site is especially useful for students in courses using Hawkes.
Khan Academy – A great site for help with any math course as well as other courses.
Wyzant – Lessons on various math subjects.
Paul's Online Lecture Notes – Lecture notes for algebra and calculus.
Chegg's Homework Help – Various resources for math courses.