Math Help
Courses Covered: Math 115, 120, 121, 123, 125, 167, 261, 262, 263, 264, 267, 268, and DS 099.
Math Help in-person
In-person tutoring is available Monday through Friday 9:00am – 5:00pm.  No appointment needed! In-person tutoring will take place in the Commons area of the J.D. Williams Library (bottom floor).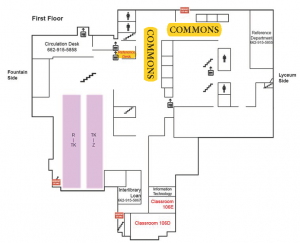 Math Help via Zoom
Some limited tutoring via Zoom is available. Just go to calendly.com/ummathtutor to schedule your appointment. Select "Zoom Tutoring". Use your go.olemiss.edu email when making an appointment. An appointment is for a 30 minute session with a tutor. Students can schedule up to 2 appointments each day. Please note that you will receive an email with a Zoom link shortly before your appointment is set to begin.
Supplemental Instruction Information for Math 121 and Math 261

See the following link for SI information in Math 121 (College Algebra) and Math 261 (Calculus). SI Info Link.   
Links
The various links below are external resources that may help with math struggles.
HawkesTV – This site is especially useful for students in courses using Hawkes.
Khan Academy – A great site for help with any math course as well as other courses.
Paul's Online Lecture Notes – Lecture notes for algebra and calculus.